Olympic Ambitions, Developers' Wishes Trump Human Health in Most Toxic U.S. Zip Code
From the Huffingtonpost.com​
Michele Swenson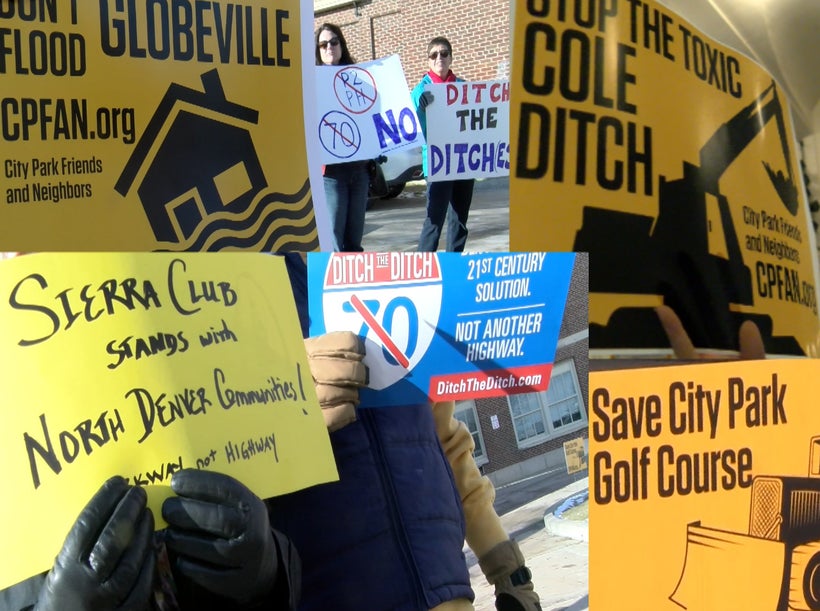 Photo Composite By Michele Swenson
---
Government responds to the needs of investors before people. Noam Chomsky
CDOT to the People: "Sue us."
A public meeting at Swansea Recreation Center on February 16, 2017 was intended by the Colorado Department of Transportation as a platform to present plans made by Denver and the state to widen and lower the elevated I-70 viaduct 40 feet partially below the water table in a flood plain and Superfund Site between Colorado and Brighton Blvds. The proposed I-70 trench, called the "PCL" - partially covered lowered - is an alternative previously rejected and then revived as part of the 10-mile Central 70 Project. Though long denied by many city and state officials, the creation of a 2-1/2 mile drainage system (in this case co-opting parts or all of three parks, and traversing several neighborhoods) was conceived to provide 100-year flood protection for the I-70 trench and development along I-70. Plans made largely below the radar too often excluded neighbors' input and short-circuited environmental protections. Responding to protests at the February 16 meeting, CDOT Executive Director Shailen Bhatt reiterated the sole recourse offered to the people: "Sue us." He asserted that CDOT and the City had technically adhered to legal process. Insisting on a higher standard, a local resident replied, "Do the right thing, the moral thing."
Unbeknownst to most Coloradans and cited by a participant at the February 16 meeting has been a quiet years-long effort to bring the Winter Olympics to Colorado, also significantly impacting I-70 expansion plans. A City document titled Master Plan for the National Western Center lays out extensive plans for the current National Western Stock Show complex to accommodate two large arenas and sports facilities, as well as Olympic venues and temporary housing. Facilities include: "Ice capability for hockey...a possible Winter Olympics bid.." and "Accommodate potential for Olympic long track speed skating oval."
Laying the groundwork for an Olympics bid began soon after the 2011 mayoral election when Denver Mayor Michael Hancock and Colorado Governor John Hickenlooper enlisted close associates, including Steve Farber (influential lobbyist and power-broker of the national law firm , Brownstein Hyatt Farber Schreck, LLP, a member of the American Legislative Exchange Council, a conservative corporate ally), to serve on the Denver Olympics Exploratory Committeewith intent for a 2022 Winter Olympics bid. When the U.S. Olympic Committee decided to sit out that year, ambitions were projected toward a 2026 Winter Olympics bid.
Among investors laying claim to properties along the I-70 corridor is Elevation Development Group, a real estate investment and development firm formed by sons of Farber. The group has purchased properties for development adjacent to I-70, the future National Western Center and River North District.
Widening, Lowering of I-70 Cited as Necessity for Olympics Venue
By 2012, Governor Hickenlooper reportedly instructed his newly-appointed CDOT executive director, Donald Hunt, to revive the previously rejected plan to widen and lower the 1.8 mile long I-70 viaduct that bisects Elyria- Swansea neighborhoods, into a below-grade trench, known as the "PCL" - the partially covered lowered alternative.
Hunt acknowledged that previous proposals to lower I-70 below grade had been shelved due to concerns about groundwater contamination and cost, but he asserted that the I-70 lowering would be kept "shallow" to avoid groundwater problems. Hunt admitted the PCL would add $150 million to the anticipated $1 billion cost of the Central 70 project, making it "one of the most expensive projects in the history of the Colorado Department of Transportation." Simultaneously, officials reported that new federal transportation funding was unlikely in the near future, requiring additional state monies for transportation projects.
President/CEO of the National Western Stock Show, Paul Andrews, in 2014 named the "PCL" (I-70 widened from six lanes to 10 lanes plus 2 auxiliary lanes in each direction, lowered into a trench, with a cover) "of vital importance to the future of our site." Some regarded the cover over the lowered freeway essential to a potential Olympics venue, to connect the National Western Center, the Coliseum and River North District. Expansion of I-70 was cited as opportunity to create a transportation connector for the proposed Olympics venue by way of Union Station downtown to mountain venues. Investor/developer interests hailed a widened, submerged I-70 as a gateway to Denver, a necessary investment for the mayor's envisioned "Corridor of Opportunity."
Mayor's "Corridor of Opportunity" for Public Subsidies, Private Profits
One of the City's strategy consultants, Coltivar Group is a self-described "boutique management consulting firm" acting as catalyst for construction industry growth, an "immense scope of investment" and increasing profitability, often by means of "public/private partnerships." "P3s" often equate to public subsidies for projects yielding private profits. Such private for-profit toll lanes are part of CDOT's plan for I-70 expansion. By 2015 Coltivar promoted Mayor Hancock's "comprehensive multi–project development strategy" as "ripe with possibility for citizens, businessmen, and the construction industry."
An early Denver Chamber of Commerce presentation likewise lauded the NDCC's leveraging of multiple projects along the Mayor's "Corridor of Opportunity" toward achievement of "funding options" and "a broad range of investment," as well as "shared opportunities for creation of Public/Private Partnerships."
The city's website expansively describes the "mayor's bold vision" for Denver's "northern gateway entrance into the Mile High City"- "six projects covering...more than 3,000 acres along Denver's nearly 23-mile 'Corridor of Opportunity'…..one of the largest urban redevelopment projects in the nation currently."
While vaguely alluding to drainage issues surrounding I-70 development, the City website has called for "Reclaiming the river with a new park....greenway, transportation improvements, improved drainage, and identifying sustainable development opportunities along the riverfront." Not mentioned is the need for 100-year flood protection arising from I-70 development projects.
Only by uniting the needs and ambitions of CDOT, the City and County of Denver, investors and developers around the I-70 corridor and its drainage requirements, could a plan be devised that ultimately shifts environmental and financial burdens to the people of Denver and Colorado.
Developers' Needs Prevail: I-70 Alternative Given Short Shrift
The fact that developers are relieved of responsibility for providing flood protection for their own projects may help explain why there was no serious consideration of the alternative I-270/I-76 route north of I-70 which would bypass populated areas, providing some relief from the polluting freeway dividing north Denver neighborhoods.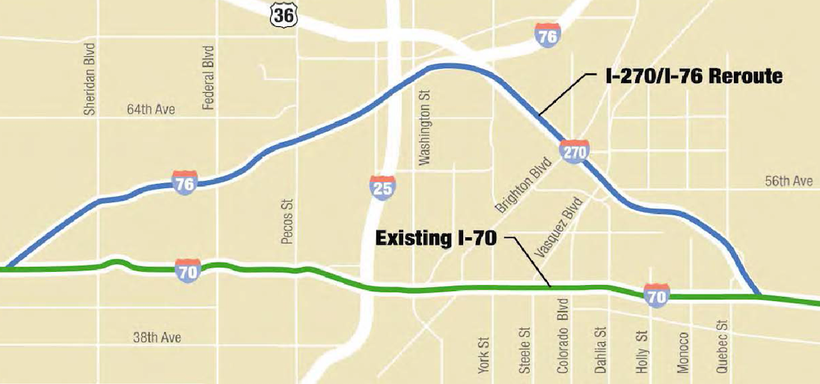 Alternate I-270/I-76 Reroute
---
A 2008 Groundwork Denver report acknowledged that Elyria and Swansea bisected by I-70 in 1964, spanned the most polluted zip code in Colorado, encompassing two high-priority Superfund sites and numerous contaminating industries. Classified as "Environmental Justice" communities, they are defined by the EPA as "overburdened communities... suffering an undue burden of environmental pollution, often predominantly poor and minority," that deserve to have a "fair opportunity to participate in EPA's permitting process" related to "significant public health or environmental impacts." Groundwork Denver's self-described mission is to "partner with lower-income communities" to "promote health and well-being" and positive environmental change.
The 2008 report also assumed realignment of I-70 to permit re-connection of previously divided neighborhoods: "The potential realignment of I-70 viaduct would remove a major barrier in the heart of Swansea and create significant opportunities for new development and street connections in the neighborhood..."
Rerouting I-70 to the north by widening the existing I-270/I-76 highways, would avoid hazards associated with the I-70 trench and drainage projects. Already slated for expansion, the I-270/I-76 alternative beltway lies principally in an industrial area, bypassing heavily populated neighborhoods. The diverted route would add only about 1.8 miles to the east-west trip along I-70, and is reportedly already used by some truckers to avoid the I-70/I-25 bottleneck.
One of multiple alternatives proposed by CDOT in 2003, the I-270/I-76 reroute was subsequently dismissed with a written cost estimate using "terribly flawed" assumptions, reported League of Women Voters' transportation issue specialist Cynthia Thorstad in 2014.
The I-70 East Final Environmental Impact Statement (FEIS) in 2016 did not mention or evaluate the I-270/I-76 alternative route.Though CDOT has claimed to study this beltway alternative, the only 'reroute' studied was an earlier, much more minor detour terminating at the National Western Complex.
ABOUT THE AUTHOR
This DitchtheDitch Perspectives article is licensed under a Creative Commons Attribution-NonCommercial 4.0 International License. Photos, images, and logos are excepted from this license, except where noted. Please contact our team for re-publication queries.